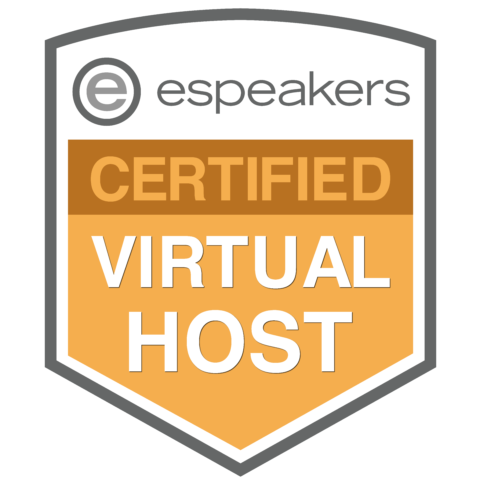 OK presentations aren't OK anymore.
Want to spice up your presentations and become a virtual speaker your audience will never forget? Become a trusted virtual host by completing the eSpeakers Certified Virtual Host course. This live online program of 5 half-day sessions is led by an experienced facilitator and will teach you everything you need to know about impactful, unforgettable hosting virtual meetings.
By the end of this course, you'll understand how to use virtual presentations to earn more money, have more fun, and better serve your clients.
We recommend this course for professional development for:
Teachers leading a class of students
Coaches facilitating virtual groups
Speakers presenting to a remote audience
Managers leading distributed teams
Upcoming 2023 Sessions
The online course is a live facilitator-led course. All courses are taught in English, and class size is limited.
The course is completed over 5 days with 3 hours of live class each day.
---
Next Session
The class comprises 5 half-day sessions, with recordings included:
2023 February 6, 9, 13, 16, & 23 (Mondays & Thursdays)
9:00 am – 12:00 pm Pacific Time / 12:00 pm – 3:00 pm ET
COURSE FEE
Your investment for this course is $995 USD. This includes fifteen hours of live training and the certification assessment. On completion of the training, you'll be assessed and then receive your badge on success.
Training Course Outcomes
You've sat through sooooo many boring virtual presentations. You don't want to be one of those presenters who drives others to multitask.
You've been giving virtual presentations for a while now, and you feel pretty good about your skills. Virtual presentations are here to stay, and you can't afford to stay "pretty good."
Could you up-level your virtual presentations a few notches? Are you making mistakes that even experienced virtual presenters make? The Certified Virtual Host course will make you confident that your online presentations are all they can be.
After each 30- to 45-minute mini-lesson, you'll adapt and implement the ideas in small workgroups. By the end of this course, you will learn how to…
refine your virtual presentation setup
incorporate specific interaction techniques
create more compelling, attention-getting, professional-looking slides, even if you use just a few
prepare for tech hiccups
increase your audience engagement with tools at your fingertips
avoid common virtual presentation mistakes that nearly no one is talking about.
use the best tools for your desired outcome
plan how you'll implement the ideas relevant to you
COURSE OVERVIEW
By attending all 5 half-day, interactive, live, virtual master course, you'll advance in these areas:
SESSION 1 – Show Your Best Self 

know the nuances of lighting, background, camera angle, microphone, and personal image
determine if standing up or sitting are better for you
see what attendees see (hint: it might not be what you see on your screen)
…and more

SESSION 2 – ENHANCE YOUR EYE CONNECTION

use a simple technique few presenters use to help your audience feel more connected to you
manage your windows (chat, slides, gallery) so your audience feels you're always looking at them
view your notes and still look directly at the camera

…and more

SESSION 3 – AUDIENCE ENGAGEMENT TOOLS

mitigate "Zoom fatigue"
shift in-person presentation techniques to virtual
reduce people's itch to multi-task
…and more

SESSION 4 – CREATE DYNAMIC, ENGAGING SLIDES FOR MAXIMUM ENGAGEMENT AND RETENTION

optimize your slides for viewing on mobile
use relevant, non-smarmy animations to keep your audiences' attention
view your slides, group gallery, chat, and presenter view all on the same screen
…and more

SESSION 5 – PREPARE FOR TECH GLITCHES

create a Plan B (or even Plan C) to ensure a quick recovery in case there's a tech glitch
basics you need to do in every virtual presentation to calm any tech anxiety
show your slides from mobile if your computer shuts down
…and more
PREREQUISITES
Before you can complete the course and become an official virtual host, you must meet the prerequisites which include:
Those interested in becoming a Certified Virtual Host must have completed the certificate to earn the title of an eSpeakers Certified Virtual Presenter (CVP). If you haven't earned that certificate yet, you can schedule your assessment today.->
Since this course is taught over Zoom and is highly interactive, you'll get the most benefit when you have a reliable Internet connection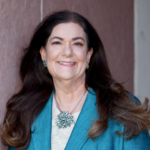 Rebecca Morgan, CSP, CMC, CVP, CVH, has been giving professional, in-person presentations around the world since 1980 and virtual presentations since 1996. She was a pioneer in virtual presentations and now is one of very few who's earned the Certified Virtual Presenter (CVP) designation as well as the Certified Speaking Professional (CSP) designation and Certified Management Consultant (CMC).
She's researched and experimented with what makes engaging live, virtual presentations and will share what she's learned. She blends her expertise in adult learning, professional speaking, and virtual presentations to bring you the best practices she's discovered.
She's appeared on 60 Minutes, Oprah, the Wall Street Journal, Forbes.com, National Public Radio, and USA Today, as well as international media. Rebecca is the bestselling author of 28 books. Two have sold over 250,000 copies each and have been translated into 9 languages.
Many world-class organizations have engaged Rebecca to develop in-person and virtual presentations on management, communication, customer service, and sales. These include Apple, Hewlett-Packard, Adobe, Microsoft, Singapore Airlines, Wells Fargo Bank, New York Life Insurance, ING-Singapore, Shangri-La Hotels, and Stanford University, among many more.
Are you ready to get started? Click here to enroll in our upcoming course sessions.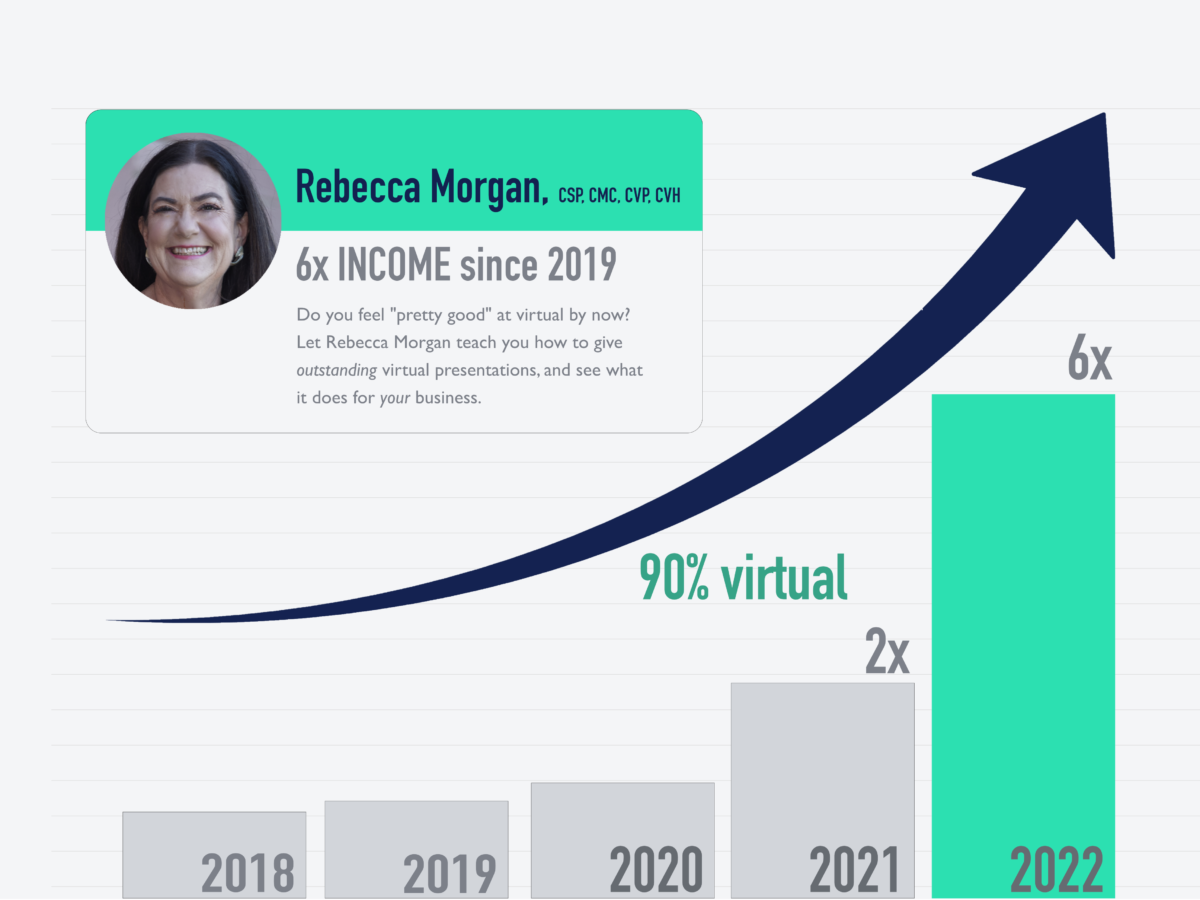 If your virtual presentations are "pretty good," why not take them to "stellar"? Since virtual is here to stay, you want to outshine your competition — and grow your business. Let Rebecca Morgan, CSP, CMC, CVP, CVH, teach you how to up-level your virtual presentations, and see your business multiply, as hers has.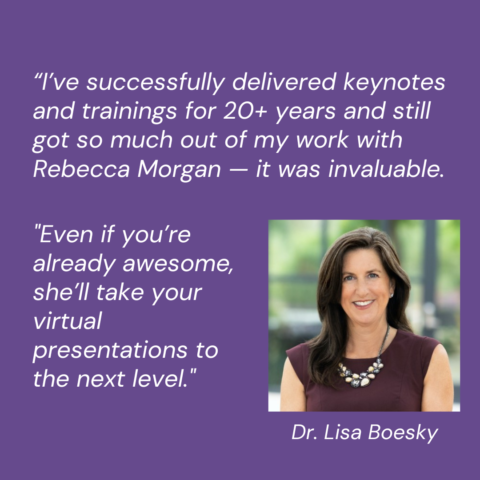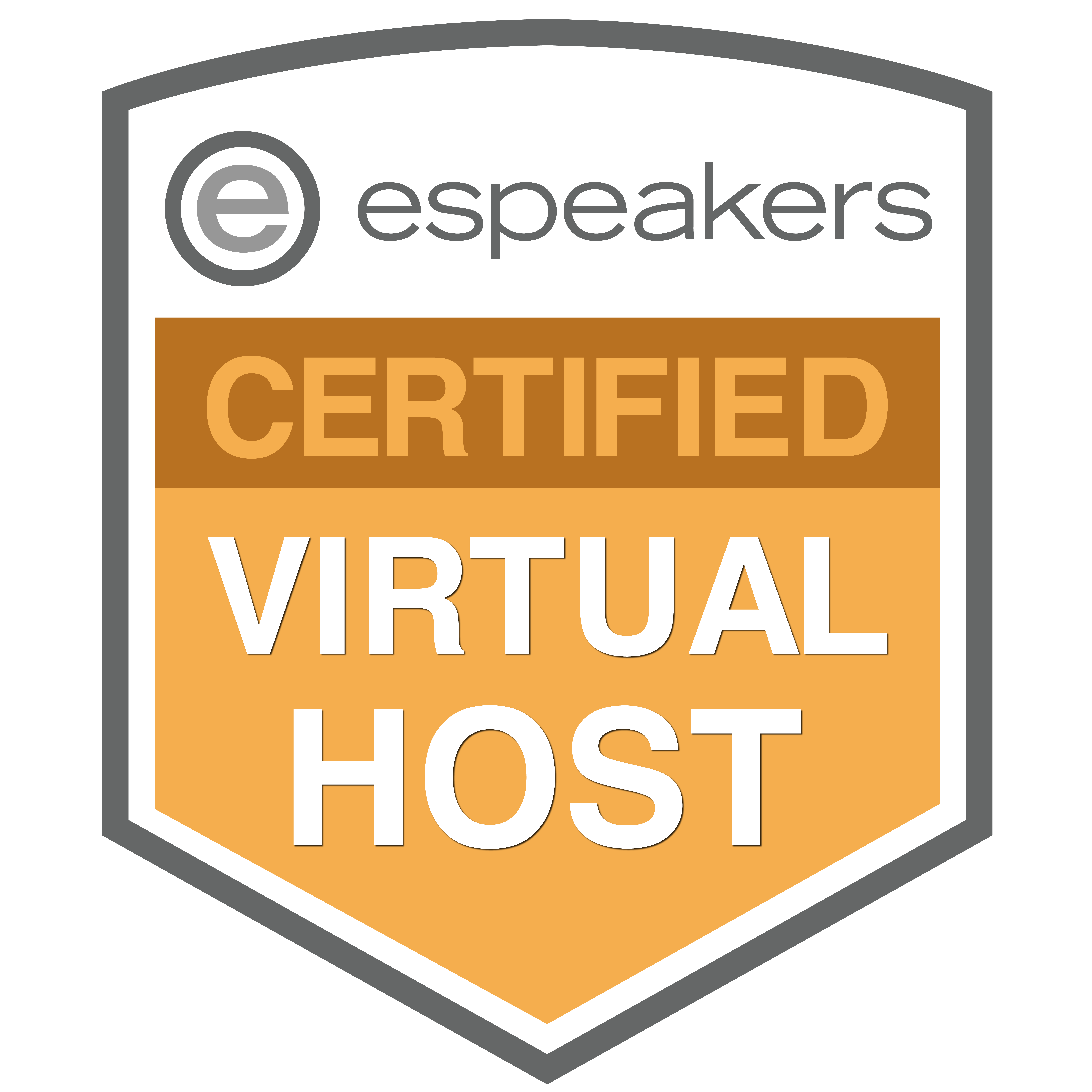 Your Certified Virtual Host Badge
After attending all the sessions of your training course, you must be assessed by your facilitator to earn your badge.
Record a live meeting you host where you demonstrate the skills learned throughout the course, then send the recording to your facilitator. If your facilitator is satisfied, they will recommend that you are awarded the certificate and the right to use the badge in your marketing.
The badge will be added to your eSpeakers profile automatically, and you will have the right to display the badge on your website, email signature, and other marketing material.
Classes will fill up -- secure your seat now