Public speaking comes easy for some but is difficult for others. If you find public speaking to be intimidating, you're not alone. In fact, according to research by the Cleveland Clinic Foundation, between 15% and 30% of the general population have social anxiety, which can have a significant impact on the ability to get in front of a large (or small) crowd and give a presentation.
Of course, there are different ways to manage your social anxieties and overcome your public speaking fear. With the right strategies in place, you can feel more comfortable and confident opening up during meetings at work, presenting in school, or leading a conference for colleagues.
Whether you need encouragement in the workplace or you're pursuing your dream of becoming a professional public speaker, there are dozens of ways to settle your nerves and boost your confidence. Here are five tips on how to deal with stage fright public speaking: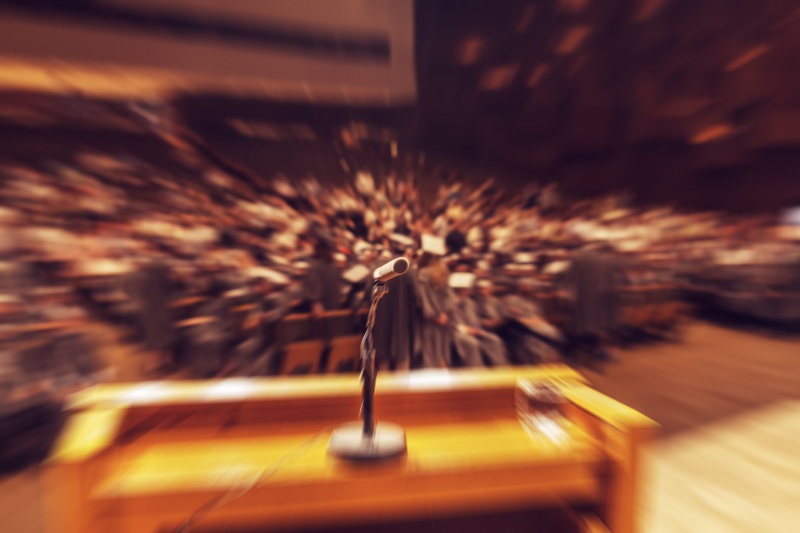 1. Prepare and Practice, Practice, Practice
One of the easiest ways to fuel your public speaking anxiety is to come to your presentation underprepared. You can help mitigate feelings of nervousness and fear when you approach your audience with confidence, knowledge, and organization. Here are a few different ways to prepare for a public speaking event:
Do your research. The last thing you want to do is approach a topic like you're an expert, then fall flat with the delivery. Set aside time to do thorough research on your speaking topic, so you don't have to rely on your notes or a script so heavily.
Get organized. Do you have all of your presentation items ready? Make sure you plan out your presentation props, audio, and visuals well in advance, so you don't have to worry about fumbling around during the presentation.
Practice! If you have a public speaking fear, it's best not to wing it. Practice in front of a group of people, and practice alone in the mirror as well. Get a few different perspective angles on your presentation before the big day.
2. Stay Focused on Your Presentation Material
It's easy to get on stage and feel overwhelmed by the number of people in the room. And it doesn't have to be a large audience to feel this way, either. Try your best to pay less attention to the audience and more attention to the information you are presenting to them.
If the idea of working through moments of silence brings you anxiety, consider this: these silent pauses can be intimidating during a presentation – especially if you're the one who's center stage – but they can also be very valuable. This gives you a chance to catch your breath and for the audience to reflect. Plus, when these moments occur, they likely won't last longer than a few seconds (even if it feels like an eternity.)
3. Practice Deep Breathing Exercises
Deep breathing is an anxiety reducer that shouldn't go unnoticed. Taking slow, deep breaths creates better airflow throughout your body, which can be pertinent to calming nerves, reducing stressors, and mitigating anxiousness. Work on your deep breathing exercises in advance of the presentation so that you understand how to manage your fears and get your breathing under control.
4. Seek Support
Overcoming stage fright, and public speaking can be made easier with a support system. Reach out to co-workers, friends, and family members about your upcoming event and ask for general support and assistance practicing the presentation. This can help you overcome fears, feel more confident about your delivery, and make your loved ones proud.
Want to learn how to get over stage fright and public speaking from other public speakers?
If you find yourself struggling to build confidence for an upcoming presentation, find inspiration from the professionals. eSpeakers marketplace is your go-to resource for learning about professional public speakers and how they started before making a career out of presenting to large audiences. This can be an encouraging way to face your fear of public speaking and feel more comfortable getting in front of an audience in the future.
And once you feel comfortable with your own public speaking skills, you can even join the eSpeakers marketplace yourself! This space offers an opportunity to grow your public speaking business, pursue leads, gain more experience in the industry, and even boost your confidence.
Looking to hire a public speaker? Want to become one on your own? Browse eSpeakers today for more information.